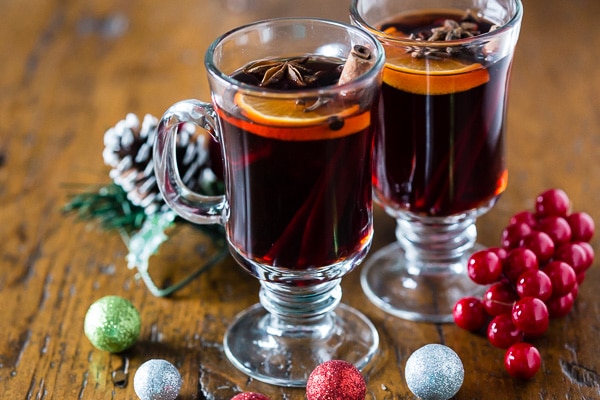 Holiday Spiced Wine
Nothing says winter like a steaming mug of spiced wine. We share our top tips on how to make the perfect mulled wine.
You know Christmas is on its way when you have your mitts wrapped around a warm mug of mulled wine. But while the fuzzy glow and slightly stained lips are two happy by-products of supping the red stuff, there are pitfalls. Insufficient sugar, a grainy texture and too much spice can all dent festive cheer, so we've got some tips for creating the perfect mulled wine.
Find a failsafe technique
Start with a classic recipe as your base. Our favourite technique is to place all the spices in the pan with the liquid and heat on low for 10-15 minutes. Then, take the pan off the heat and leave the flavours to infuse for half an hour before gently reheating to serve. Avoid boiling your mixture – not only will it burn off the alcohol, it can also affect the flavour too.
Spice up your life
The more traditional mulling spices are cinnamon, star anise, clovesand nutmeg, but you could try adding allspice, cardamom, bay leaves, vanilla pods or ginger, depending on the liquid you're mulling. Use all of these spices sparingly, particularly star anise and cloves, as they become very strong in flavour when left to stew at length. A touch of citrus complements these warm spices a treat. Orange and lemon won't let you down, but tangerine, clementine and mandarin will add an extra festive kick.
Get into the spirit
Ramp up the cheer – it is Christmas after all. Choose a liqueur or spirit that's fairly low in alcohol to avoid completely incapacitating your guests. Cointreau, Grand Marnier or Curacao work with orange-based mulling mixes, or try a touch of sloe gin to bring out berry flavours in the wine.
A delicate drizzle of spiced rum, such as Sailor Jerry's, ginger wine and cherry or apricot brandy can also work, but don't go overboard. Avoid anything that might curdle, strongly contrasting spirits or anything cloying – while it's tempting to match the spices with something aniseedy, sambuca mulled wine would kill the party mood in an instant.
Sweeten things up
Lighten up the heavy booze and wintery spices with a sweetening agent.  Add sugar at the beginning of the recipe so it gets a chance to dissolve. Stir regularly until it has disappeared. Most of our recipes use caster or granulated sugar due to their fine texture. You can always add a little extra sweetness later, but again make sure you stir to dissolve.
If you're going freestyle, honey or a flavoured syrup can be added to taste as the mix is taken off the heat, but make sure you give it a good stir.
That's a wrap…
It's worth investing in some muslin so you can create your own spice bag. Fill it with any unground spice such as cinnamon sticks, whole nutmeg, cloves or ginger slices. This way you won't end up with floaters.
… or get studding
Dot cloves into the skin of oranges and lemons to kill two birds with one stone – not only will it infuse the mix, it looks pretty too.
Ditch the red
There are plenty of drinks that are fit for mulling beyond the ubiquitous red wine. Cider works well, but make sure you avoid the sweet fizzy bottled variety and try to get your hands on some flat farmhouse scrumpy, perry (pear cider) or French dry cider. Alter your spices accordingly – lift the mix with apple or pear juice, some fresh cranberries, vanilla and apple slices.
While it's usually enjoyed crisp and chilled, white wine can also be mulled. Team it with light flavours like elderflower cordial, rosemary, vanilla and thyme. And don't forget any non-drinkers – mulled apple juice with mild spices and orange should fit the bill nicely.
Get ahead
Keep a pre-made bottle of spiced syrup in the cupboard to avoid a last minute mulling crisis. Combine sugar and water with the spices of your choice and simmer for 20 minutes. Once it's cool, strain it through a fine sieve and pour into sterilized bottles. Our recipe features instructions on how much of the syrup to add to wine, but if you're adding to your own preference, it's a good way of controlling sweetness and spice levels. It'll keep for up to three months too.
Finishing touches
Serve up in style by going off-piste with your cups. While fragile glass is a no-no, sturdy dimpled half-pint glasses look good and have a useful handle. Garnish with whole cinnamon sticks and pared orange or lemon peel. You could also add a wedge of citrus studded with cloves, but it's best to make one fresh rather than fish a soggy slice out of the mulling pan.