Standard Showcase Display Kit
Free Shipping
Dimensions
Width: 36 1/4″ Racks or 39 1/8″ Including Feet (Single Kit)
Height: Minimum 8′ / Maximum 10′
Depth:  14 1/16″  Double Deep and Triple Deep
Key Features
The Showcase Series individual rows are sold in 3ft sections & mount to the wall or Showcase Series posts.
High-quality materials make for sturdy construction and simple assembly.
Telescoping posts designed for ceilings up to 10 ft.
Modern industrial matte black finish.
CAD blocks are available.
MAXIMUM VIEW OF WINE LABEL
Our stylish Display Row Kit provides optimal viewing angles of your wine collection's labels.
MODERN, SLEEK AESTHETIC
Naturally modern, incorporating a sheen-less matte black finish that is both scratch and mar resistant.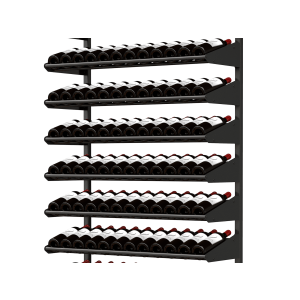 DESIGNED FOR STABILITY
Designed to hold wine bottles securely in place and allows your favorite wine label to be viewed optimally.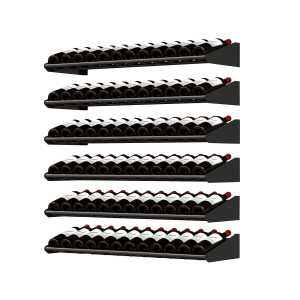 DYNAMIC MOUNTING OPTIONS
The 3FT Display Row can be mounted to a variety of surfaces utilizing multiple strategically placed mounting locations to ensure your wine collection is safe, secure, and stylish.