Showcase Cork Out Row – Black
Free Shipping
Dimensions
Width: 36 1/4″
Height: 4 1/2″
Depth: 12 1/8″  Double Deep and Triple Deep
CAD blocks are available.
Scratch and mar resistant.
Modern industrial matte black finish.
The Cork-Out Row supports 12 bottles.
Easily expanded to the left or right with the purchase of additional Cork-Out Rows.
Designed to hold wine bottles in a cork-out configuration, maximizing wine storage space & ensuring your collection's corks continue to stay moist.
CORK-OUT WINE STORAGE
Our Ultra Cork-Out Row holds bottles in a cork-out configuration, maximizing limited wall space and storage capacity.
MODERN, SLEEK AESTHETIC
Naturally modern, incorporating a sheen-less matte black finish that is both scratch and mar resistant.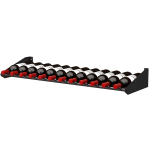 DESIGNED FOR STABILITY
Our Cork-Out Row is designed to hold wine bottles securely in place.
DYNAMIC MOUNTING OPTIONS
The Cork-Out Row can be mounted to a variety of surfaces utilizing multiple strategically placed mounting locations to ensure your wine collection is safe, secure, and stylish.