Showcase Featured Display Kit – Double Deep
Free Shipping
Dimensions
Width: 36 1/4″ Racks or 39 1/8″ Including Feet (Single Kit)
Height: Minimum 8′ / Maximum 10′
Depth: 14 1/16″ for Double and Triple Deep
Key Features
The Showcase Series is the most versatile wine rack system we have released yet by offering label-out, neck-out, angled, and shelf presentation options.
Offers two depth options: double deep, or triple deep.
High-quality materials make for sturdy construction and simple assembly.
Telescoping posts designed for ceilings up to 10 ft.
Modern industrial matte black finish.
CAD blocks are available.
  HZ ROW
   Our HZ Row wine rack stores bottles horizontally allowing moisture to the cork and maximize your wine label visibility
DISPLAY ROW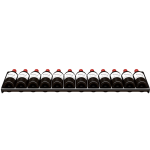 Our stylish Display Row showcases your favorite bottles of wine with the label out, and at the optimal angle for wine storage & showcasing your favorite wines.
TWO DEPTH OPTIONS
The Featured Display Kit is designed to hold 78-105 bottles depending on the
depth of your row. We call this "double-deep", and "triple-deep.".