Showcase, 10-12 Foot, Frame – Base & Insert
Free Shipping
Dimensions
Telescopic post designed for ceilings from 7-10 feet
CAD blocks are available.
Scratch and mar resistant.
Modern industrial matte black finish.
Telescopic post designed for ceilings from 7-10 feet
Create a stunning modern wine rack from floor to ceiling
Precision-cut technology with durable steel ensures that it is built to last, and is easy to install.

TELESCOPIC FRAME SYSTEM
The Showcase Base & Insert is the frame system for our Showcase Design Kits. The Base & Insert come in two sections that vary in length and can be custom-cut to fit any height between 7-10 feet.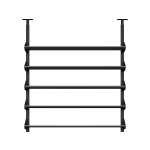 MODERN BLACK FINISH
The Showcase Series' chic Matte Black finish complements contemporary design trends that match and elevate your overall space.
MIX N' MATCH
Don't let our Kits hold your vision back! Pair our Showcase Frame Base & Insert with up to 16 of our individual showcase racks to create your very own stunning modern wine display.