Hotels of the Famous and Celebrities
Bedford Post Inn – Bedford, New York
Richard Gere owns this eight-room luxury inn in upstate New York with two other local residents. It was restored from a historic 1860s property. Unlike othercelebrity hotels, the Inn is more low-profile; though it does have a yoga loft, a custom wine cellar, and two restaurants.
The Greenwich Hotel, New York City
Robert de Niro owns the stylish The Greenwich Hotel located in the district of Tribeca. Each room is uniquely designed with old-world cultural influences like Tibetan rugs, Swedish beds and Moroccan tiles. The hotel has 88 rooms and rates start from $450 a night.
Mission Ranch Hotel – Carmel, California
Clint Eastwood bought this historic ranch when it was near disarray and converted it into a unique lodging experience. There are 8 different houses located across the hotel's 22 acres, each providing a relaxing rustic experience.
Coppola Resorts, Belize
Famed director Francis Ford Coppola owns hotels in Belize, Guatemala and Argentina. Plus future plans to open resorts in Italy. Resorts such as the Turtle Inn,Blancaneaux Lodge, La Lancha and the Jardin Escondido are all owned by the Coppola Family. Each resort is hidden away in a remote location surrounded by nature's beauty in the middle of a rainforest or beside a beach.
Costa d Este & Cardozo Hotel, Florida
Singer Gloria Estefan and her Grammy-producing husband own these luxury beach hotels. At Costa d Este, rooms are furnished in teak and allow guests to relax in limestone bathtubs. Beach views and luxurious décor provide the perfect tropical getaway. The Cardozo Hotelis set in the heart of South Beach, you are within walking distance of the best restaurants, lounges, and nightclubs Miami Beach has to offer.
No 11 London – London, England
Model/Actress Elizabeth Hurley co-owns this elite couture hotel connected to one of London's most exclusive private member clubs. It is located right beBuckingham Palace and department store Harrod's, which makes it the perfect spot for celebrities and those who want to feel like one.
The Clarence – Dublin, Ireland
U2 members Bono and The Edge own this refurbished boutique hotel that was built in 1853. Its décor reflects modern Ireland, but has also retained some of its older charm like an Octagon Bar and Art Deco furnishings.
Gaia Retreat and Spa – Brooklet, Australia
Actress and singer Olivia Newton John has created a super relaxing getaway that focuses on Meditation, Art and Yoga. The tranquil retreat is located on 25 acres in Austrailia's Byron Bay. The 19 room property has been described as "barefoot meets Armani".
Sundance Resort – Sundance, Utah
Robert Redford purchased a simple ski resort in 1969 with a dream of creating a place for arts appreciation and environmental conservation. This green resort is now home to eco-friendly cottages and homes tucked into the mountains.
Cypress Inn – Carmel, California
Doris Day became a co-owner of this landmark hotel in the mid 80s, but it has existed since 1929. Day's passion for animals led her to turn the hotel into a pet-friendly boutique hotel that provides pet blankets, pet sitters, and information about nearby pet-friendly parks, shops, and restaurants.
The ultra sleek and stylish hotel is owned by Donatella Versace of the Versace Family. Palazzo Versace was the one of the first of the Fashion House designed hotels that are so popular today. The Versace House has another Palazzo Versace set to open in Dubai later this year.
Terrace Beach Resort, British Columbia, Canada
Actor Jason Priestley and his family own the Terrace Beach Resort located in the small town of Ucluelet on the southwestern coast of Vancouver Island. The waterfront accommodations are designed to resemble a 1920 west coast fishing village built on pilings, with boardwalks that meander among the 400 year old forrest.
Kates Lazy Meadow – Mount Tremper, New York
B-52's singer Kate Pierson created this retro-inspired hotel in the Catskills based on her experiences staying in many a hotel during band tours. Guests can stay in vintage cabins, shacks or Airstreamers, all fitted out with kitschy 1950s décor.
Virgin Limited Edition – Mpimalanga, South Africa
The Owner of Virgin Group Sir Richard Branson is one of the richest men in the world. His collection of exclusive luxury hotels, namedVirgin Limited Edition, features luxury resorts all over the world. Stay at Sir Richard Branson's own private island, Necker Island; his Private Game Reserve, Ulusaba; his Moroccan Retreat, Kasbah Tamadot; or his Swiss Mountain Retreat, The Lodge.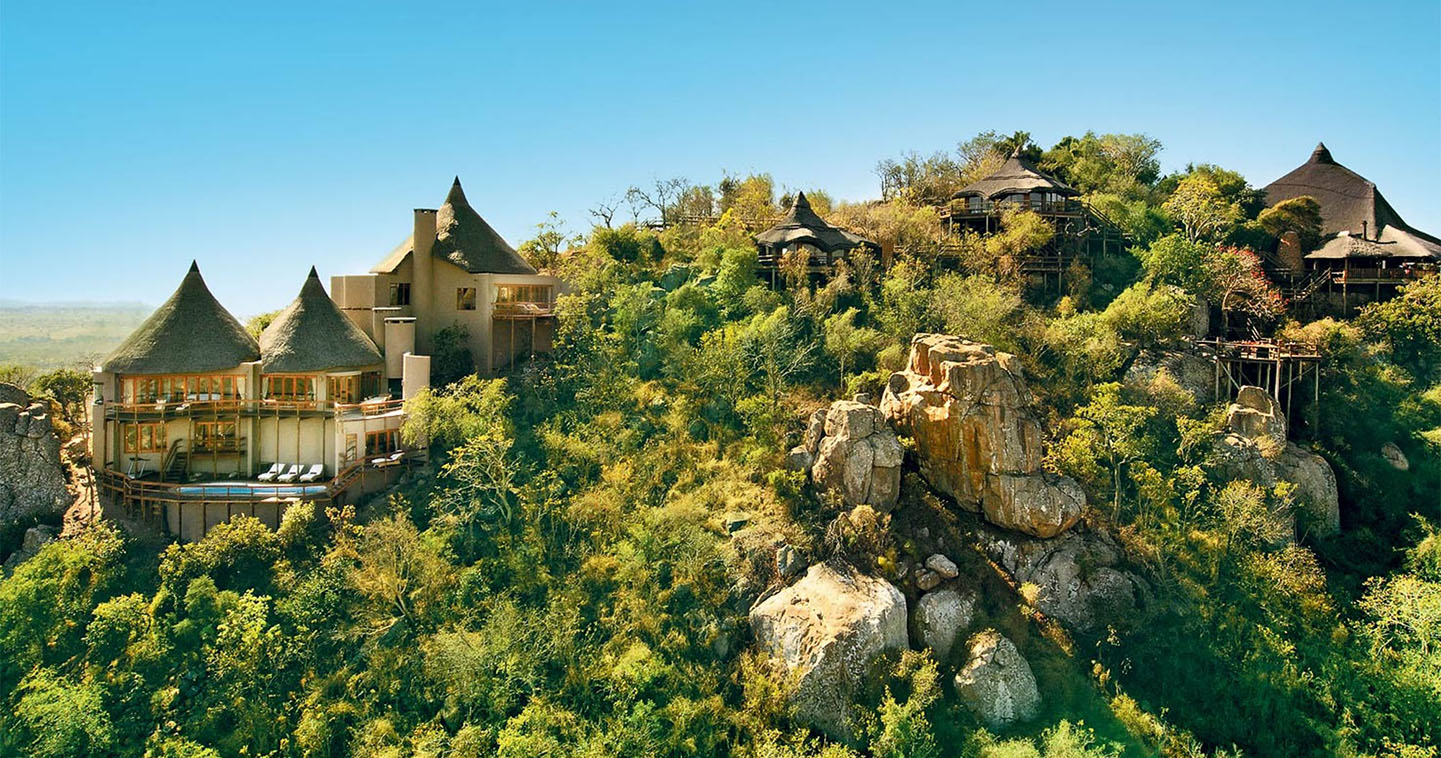 What's next Sir Richard Branson's Lunar Retreat?? Sir Richard also has plans for travel in to space with his Virgin Galactic company. Flights aboard the VSSEnterprise are set to start later this year at $200,000 a ticket!