CellarPro 1800XTSr
Cooling Unit
#35882
Free Shipping
*Shipments to AK and HI – Please call for a quote
1886 SENSIBLE BTUH @ 55F.
CellarPro's 1800XTSr-ECX cooling unit (1/4 Ton Nominal) draws inspiration from our 1800XTS cooling unit, then repositions the hot side airflows to the front of the unit, and the cold side airflows to the bottom of the unit, making it ideal for built-in and above-the-door installations that require venting at the front of the unit.
1253 SENSIBLE BTUH @ 50Hz / 13C.
CellarPro 1800XT-ECX-220V cooling units (1/8 Ton Nominal @ 50Hz) provide outstanding performance, adjustable humidity control, super-quiet operation and extra cooling power for use in 220V/1PH environments.
1800XT-ECX-220V units can be used with both 50-Hz and 60 Hz 220V power, use energy-efficient EC fans and are significantly quieter than comparable units. Performance testing shows that this compact unit maintains optimal cellar temperature and humidity conditions, even in tough environments. Visit our Learning Center for data tables, performance charts and product comparisons among different brands.
This unit can be used in North America as well as in overseas markets.
Our cooling units are designed to be used in properly-constructed wine cellars that are adequately insulated, airtight and sealed with a vapor barrier. In improperly-constructed cellars, the cooling unit will create excess condensation, leading to damage and premature failure of your cooling unit (not covered by warranty).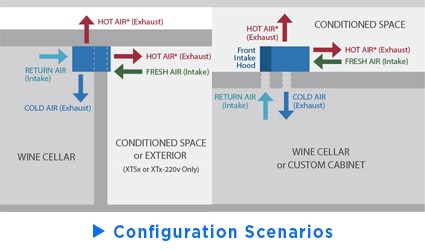 Brand: 
CellarPro
UPC: 077757358821
Size: 18w x 19.5d x 10 1/2h (in)
Power/Rating:
115V AC / 60 Hz
Decibels: 50 dBA
BTUH @ 55F: 1,886
Warranty Resources
– Warranty Overview
–
Click on one of the following links for more information:

With the power of our 1800XTS cooling unit, the 1800XTSr has reversed the location of its airflows, making it perfectly designed for built-in or above-the door installations.
Extra Cooling Power
Electronic Thermostat
Digital LED Display
Adjustable Humidity Control
Energy-Saver Mode
Quick-Chill Mode
Audible and Visual Alarms
High-Output Compressor
Epoxy Coated Coils
Min/Max Temperature
Maintenance-Needed Indicator
Auto-Defrost Cycle
Power On/Off
Removable Steel Case
Vibration-free Operation
Remote Control & Probe
Other Options & Upgrades
100W Heating Element #27318: Add a 100W heating element to burn off excess moisture
Mounting Clips #1095: attached to the front of CellarPro 1800 Series cooling units, these clips are designed to be bolted to the ceiling inside the wine cabinet / cellar.
DID YOU KNOW?
Nobody protects your wine cellar better than CellarPro Cooling Systems! In the event your cooling unit fails and the failed components are covered by our warranty, we'll send a replacement cooling unit to you per the terms of our Replacement Unit Program
CellarPro Replacement Unit Program
If your CellarPro cooling unit fails and the parts that failed are still covered by warranty, we'll send a replacement cooling unit to you, as follows:
Your cooling unit must be registered at CellarPro
Your cooling unit must have been properly sized, installed and maintained
Your cooling unit may not have been permanently modified, damaged or disfigured
Please note:
Replacement units are factory-refurbished cooling units with a similar build date as your original unit
You are responsible for the shipping cost to send the replacement unit to you and return the original unit to us, and the cost (if any) to remove the original unit and install the replacement unit
In order to send a replacement unit, we require a deposit, which will be refunded minus shipping costs upon the return and pending the inspection of the original unit
If the original unit failed due to improper installation or use, the failure is not covered by warranty and we will deduct the cost of the repairs from the refund of your deposit